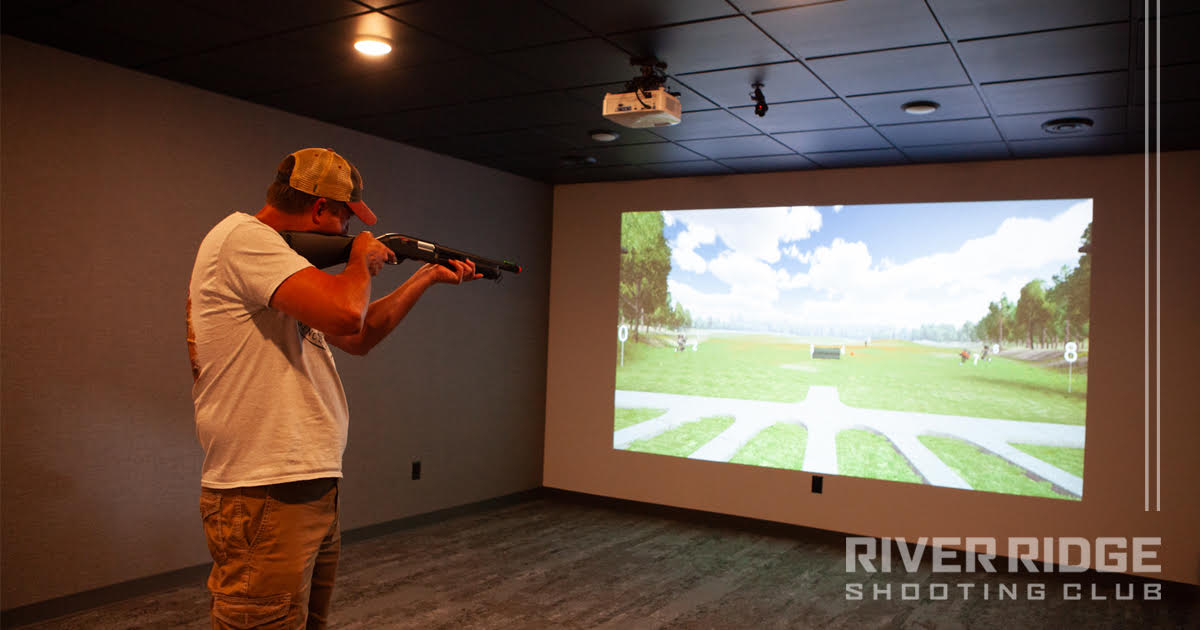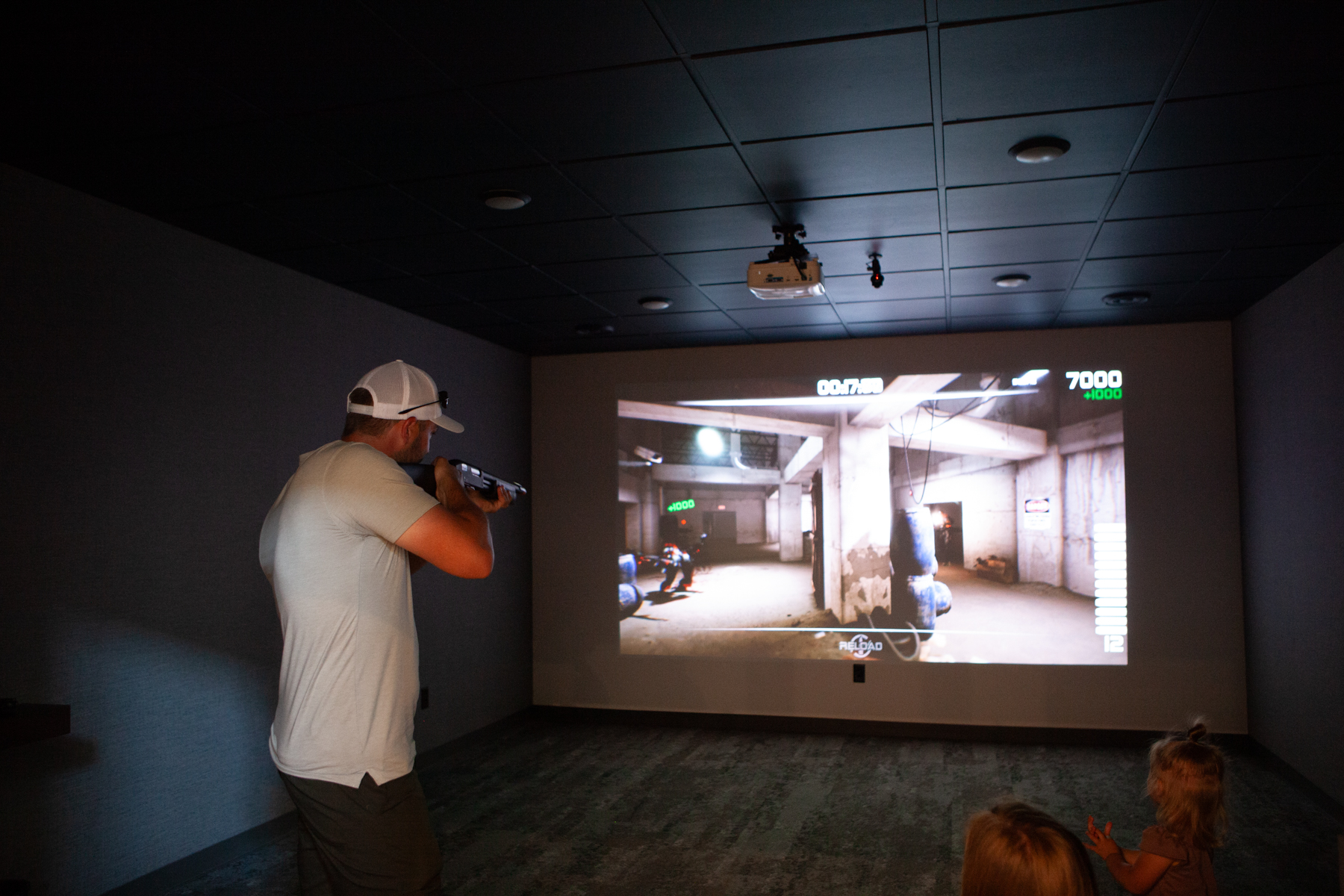 Immersive Firearm Simulator
Train, hunt and trap shoot virtually.
Step up your shooting skills without stepping outside. Our firearm simulator provides an immersive experience with professional-grade software and weapons in a private, indoor space. Customers of all ages and skill levels can embark on exciting hunts, improve their marksmanship and grow confidence with pistols, rifles and shotguns from the comfort of our clubhouse.
Designed with input from hunter safety professionals, our Laser Shot simulation system offers several ways to improve accuracy and techniques with shotguns, rifles and handguns. We have programs that replicate combat, challenge lateral thinking and aid in permit to carry training.
Customers can also experience a variety of hunts – including boar, deer, ducks and partridge – for pure entertainment or to gain skills for an upcoming outdoor adventure.
Our simulated weapon selection includes a Glock 17, S&W MMP, 1911 Colt, shotgun and rifle produced with a realistic weight and recoil to help build comfort, confidence and defensive shooting skills with each firearm.
Make a Reservation
The immersive firearm simulator is open year-round to all ages and is considered a shooting experience. Cost for one hour is $40/hour for members and $60/hour for non-members. Members can make a reservation by calling 507.359.5700 or sending us a message.
See Our Firearm Simulator in Action
Here are just a few of the programs we offer as part of this shooting experience.
---
Practical Shooting Delta
Challenge yourself with unique, longer and unpredictable courses that will put mental focus, speed and accuracy to the test.
---
Max Michel Proshooter Challenge – Adrenaline
Max Michel's Pro Shooter Experience – Adrenaline puts mental focus, speed and accuracy to the test across six courses.
---
Pro Deer Hunter
Pro Deer Hunting takes players across four North American landscapes: southeastern USA, Kodiak Island in Alaska, Saskatchewan Canada and Sonora Mexico. Experience challenging and exciting hunts and no license or tags required.
---
Full Boar
Full Boar is a hunting simulation that takes players through a snowy forest overrun by wild boards. Shoot and kill as many as you can in the allotted time and aim for the high score.
---
Laser Shot Virtual Simulator Programs
CQC-Alpha Close Quarters Course
Practical Shooting Delta
Warehouse Combat
Pro Shooting Challenges 5 Pack
Max Michel Pro shooter Challenge
Adrenaline pack
Reaction Plats
Steel Challenge
Dueling Tree (Two shooters)
Lateral Thinking
Judgmental Training
Conceal Carry Libraries
Air Assault
American singles Trap shoot
Dart Duel
Dove Hunter
Five Stand
Full Boar
Mallard Madness
Partridge Hunter
Prairie Dog Hunt
Pro Deer Hunter
The Pirate Ship
Target Shooting
Extreme Squirrel Hunter