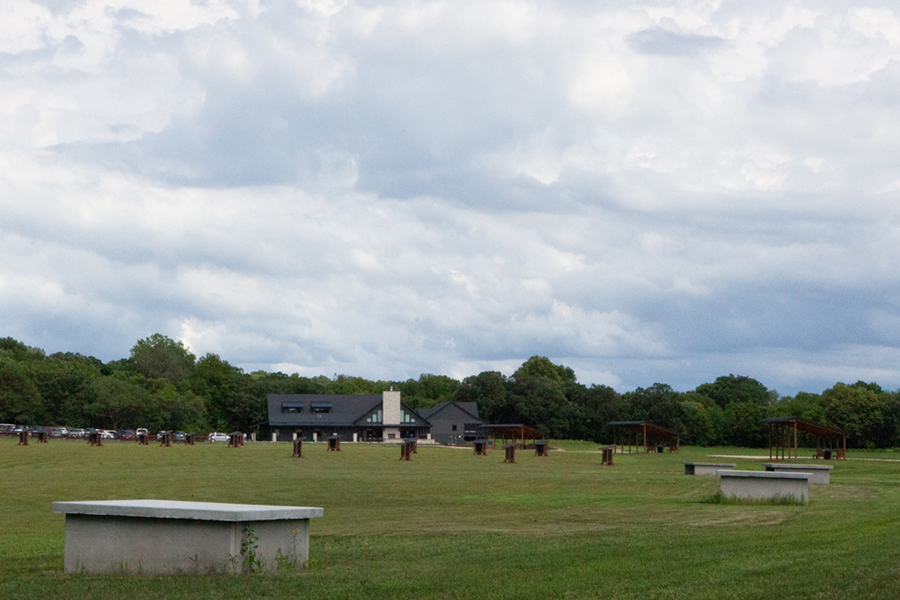 Host an Event at River Ridge
Make your corporate event, party or social gathering memorable and unique by hosting it at River Ridge. Nestled by bluffs along the Minnesota River valley just off Highway 14 near Courtland, we offer the perfect balance of easy access and scenic privacy for groups of five to 100. With a 1,000 yard rifle range, trap shooting, sporting clays, archery, immersive simulator, classrooms and clubroom, we offer a fantastic blend of outdoor and indoor activities to ensure your guests have an experience they won't forget.
Facilities and Hospitality
From learning to teambuilding to social gatherings, we have space to fit your needs and wow your guests.
Classroom(s)
Our classroom space can configured as one large room or be divided into two to seat approximately 60. The classroom is equipped with AV equipment and an audio system to support in-person and virtual conferencing.
Clubroom
Our clubroom is the perfect mix of rustic and modern charm, with panoramic views of the grounds and a mix of social and dining seating for up to 90 people. The clubroom includes a fireplace, piano, full service bar and access to our patio. Tents and tables can be set up outdoors to accommodate larger events.
Food and Beverage Service
We have minimal onsite foodservice that is limited to continental breakfast, cold sandwich boxed lunch, flatbread pizzas and deep fried appetizers. We can connect you with caterers for larger groups. Our bar is full service offering a wide selection of beer, wine and cocktails as well as sodas and juices. Contact our staff for catering options and food and beverage menus.
Party & Event Packages
We're excited to host parties that celebrate all ages and milestones. We even have archery, guns and equipment for rent. If you are looking for a unique location for your next Birthday Party, Bachelor or Bachelorette Party, Family Reunion or Corporate Team Building, we can help you put together a unique experience.
Event Requirements
Every event at River Ridge Shooting Club must be associated with a shooting or archery activity. This includes the use of our indoor immersive simulator. If alcohol will be served, the shooting activity must take place before the social part of the event. While you don't have to be a member to host an event at River Ridge Shooting Club, members do receive discounts and are given priority booking.
Have questions or need help planning a custom event? Contact us to talk with our staff or click below for a shooting event quote.