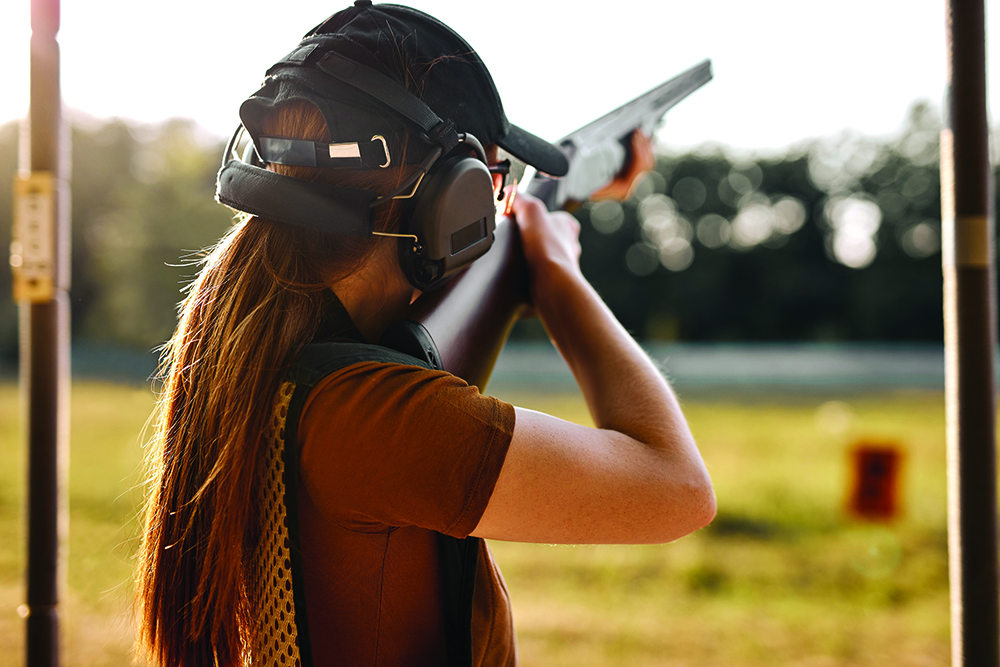 Range Rules
All shooters must check in at the clubhouse prior to using any of the range facilities.
Treat all firearms as if loaded at all times.
Range Staff have the right to inspect all firearms, ammunition and equipment.
Range Safety Officers have final authority on range safety. Any safety violations will result in immediate removal from premises.
Shooters can only shoot from designated areas. NO EXCEPTIONS.
Rifle Range and Pistol Bays can only be used with Range Safety Officer present.
Please pick up all trash and spent casings and dispose of them correctly.
Eye and ear protection is REQUIRED for all shooters and spectators while on the Pistol Range, Sporting Clays Course, Trap Fields and Rifle Range.
No hunting or shooting of wildlife on premise. All Laws Enforced.
Please refer to individual range rules for age restrictions.
Alcohol and controlled substances ARE NOT PERMITTED.
River Ridge Shooting and Archery Club LLC has the right to refuse use of range or service to any person for any reason.

Lead free shot required (steel).
Frequently Asked Questions
What are your hours of operation?
Tuesday – Saturday: 
10:00 AM – 9:00 PM
Sunday:
10:00 AM – 5:00 PM
The following activities are closed from November 1 – March 31:  Sporting Clays, Pistol and Trap. Archery, Rifle Range and Clubhouse are open year-round.
What are the range costs?
You can find pricing information here.
Are there Military or Law Enforcement discounts?
Yes, 10% off everything including range fees and retail purchases made in Pro Shop (excluding guns, ammo and archery bows). Please provide I.D. and proof of service.
What do I need to bring?
All firearms must be in a holster or case.
River Ridge can provide everything you need to have great time including ammunition, hearing and eye protection as well as other accessories. Bring your own or get what you need here in our Pro Shop.
Do you have a Gunsmith in house?
We can do limited work on firearms, including retrofitting for scopes and gun cleaning services. For more detailed gunsmith service, we can recommend local gunsmiths.
Are reservations required?
We only provide reservations for Members. Walk-ins are welcome and you will be offered times as available. You can always call ahead and check how busy we are. If you are planning on bringing a group, give us a call and we will do what we can to accommodate your group.
How do I set up private instruction or training?
Contact us and let us know what you would like to work on, and what days/times work for you. We can assist in coordinating schedules and provide you with availability and pricing.
I am a firearms instructor. Can I teach my students at River Ridge?
Outside instructors are welcome upon approval from Management.
Do I need to pick up our spent shells, casings, or brass?
Although we greatly appreciate your help with keeping the range clean, you are not required to pick them up. Our staff will take care of that for you.
Do you sell firearms or do transfers?
Yes! Check out the selection of firearms in our Pro Shop.  We also offer FFL transfer services.
Can I buy your brass/lead?
We have a contract with a metals company, due to this, we are unable to sell our brass or lead to other parties.
Can I keep my brass?
You are more than welcome to keep your own brass. All brass from other shooters, across the firing line, or in the brass buckets is off limits. If a River Ridge staff member starts sweeping your brass, just let them know you want to keep it and they will leave it for you.
Can I bring my firearms into the Clubhouse?
You may enter the Clubhouse with holstered firearms or firearms UNLOADED in a case. 
What happens if I have a malfunction on the range?
If you have a malfunction and you cannot clear it, LEAVE THE FIREARM POINTED DOWN RANGE. Alert a Range Safety Officer (RSO) or River Ridge staff, and we will come and assist you.
Can I bring my own targets?
Yes! You may bring your own paper targets to the pistol and rifle range. But please remember, we strive for a family-friendly environment and discourage targets promoting violence.
How many people are allowed on the same Pistol Bay? Rifle Range? Archery Lane?
The Rifle Range is available for private use in 1-hr increments for up to 6 individuals, 3 shooting at a time.
Pistol Bays 1-5 are available in 30 minute or 1-hr increments for up to 8 shooters.
Pistol Bay 6 has 16 shooting lanes from a fixed firing line, on a first-come, first-served basis.
Archery Stations 1-3 are available in 30 minute or 1-hr increments for up to 4 shooters.
Can I bring my own ammo?
Yes! However, we DO NOT allow: steel cased or steel core, armor piercing or green tip, incendiary or tracers. Only STEEL SHOT may be used on the Sporting Clays course. We reserve the right to inspect your ammo before we send you out on the range. Lead free shot required (steel).
Do you have a maximum caliber allowed?
Firearms that are larger than .39 caliber are not permitted on the rifle range for commercial use, except for muzzleloader and black powder style firearms. The commercial use of tracer, armor-piercing, incendiary, steel-core, explosive, steel-jacketed and accelerator ammunition is prohibited. Shotguns that are l0-gauge or smaller are allowed to be used at the facility.
What is the minimum age for children?
Children under 18 must be accompanied by an adult.  
What should I wear?
You may wear whatever you are comfortable shooting in. Please be aware, our Sporting Clays course is in a heavily wooded area that is often filled with mosquitos. We try to have mosquito repellent available. Also, when shooting handguns, be aware that low cut tops or collared shirts increase the chances of hot brass falling into your shirt. Also, open toed shoes may lead to brass burning your feet. If either of these happen SET THE FIREARM DOWN IMMEDIEATLY, then tend to your burn.
Is there a dress code?
We have no dress code.  Just make sure you are comfortable and dressed for the weather.
Do you serve food?
If you are in an organized shooting event, please check in advance to find out if a catered meal is included. We have a convenient, self-serve vending market in our Pro Shop. Members may also enjoy limited food and beverage options in the members-only lounge clubroom.
Can we bring our own food or beverage?
Yes, you can bring your own food and non-alcoholic beverages. You are welcome to sit at our outdoor picnic areas or pavilion and enjoy your food. Outside alcoholic beverages are strictly PROHIBITED on the property.
Is smoking allowed?
Yes, but only in designated areas.
Are you closed when it's raining?
It depends on the severity of the weather.  No shooting during lightning.
Are dogs allowed?
For the safety and comfort of all guests, we only permit leashed service dogs.